Creative work, driven by youth, is flourishing in shared virtual spaces. This activity falls within the artistic scope of grunt gallery's recently appointed media lab, gruntKitchen. gruntCraft was a youth engagement pilot program developed by grunt gallery to bridge the creative work being done by youth in the popular online video game Minecraft and the artistic inquiry occurring at the gallery.
The program featured a Minecraft server operated by grunt gallery, designed to provide youth participants with an online virtual studio for creative exploration. Open houses and workshops were held at grunt gallery, while a YouTube channel was created to feature video of this creative work. Professional artists were also invited to provide feedback on the work occurring in the virtual studio. Finally, support was provided for the youth participants to 3D print their sculptures built in the game.
Take a look at our
Google+ Page
&
YouTube Channel
About
gruntCraft was a youth engagement pilot project programmed as part of grunt gallery's media lab gruntKitchen. A server based virtual studio was created using the popular online game Minecraft for the youth participants to explore this medium through the production of creative work. The program featured feedback from professional artists, a YouTube Channel, and 3D printing.
One of the key principles of this project was recognizing the significance of creative expression occurring in online virtual environments, for many youth a primary creative outlet. This project was designed to give youth participants a forum for expressing themselves within a virtual world, and having this work acknowledged and considered by their friends and family; professional artists; and grunt gallery's community.
Credits
Igor Santizo - Youth Outreach Coordinator/ Guest Artist
Josh Silickas - gruntCraft Youth Technical Intern
Connie Freitas - gruntCraft Volunteer Camera Operator
Ryan Smith - Server Administrator
Demian Petryshyn - Project Director
Igor Santizo - Guest Artist
Jeremy Bailey - Guest Artist
Erica Stocking - Guest Artist
Allison Hrabluik - Guest Artist
Studio Participants
batmanbren33, Talisume, avidgamer92, Carry, Sanish Maharjan, hippy_stick, ablol123, quinnzy, kevensquint, SpastikMuffin, schnoobus, supershare, Bobby_Joe08, Grnt_Outrch, Osimous, Beckettbrett, Skye_Hawk, happygreengirl, Cypress II, Mr.Ken, Davrocks777, cheesered
This program was made possible through the support of the British Columbia Arts Council and the TELUS Vancouver Community Board.
gruntCraft is a grunt gallery project.
Guest Artists
The following artists were engaged in the project to provide feedback and perspective on the work going on in the virtual studio.
Igor Santizo is a Vancouver based artist and a teacher keenly interested in Wholism & Consciousness. His is a multidisciplinary practice of experiential discovery and experimental communication. In the capacity of teacher & facilitator, he introduces participants to the creative process, foundational principles and visual / cultural literacy; all while freshly encouraging students with their creative potential, emerging selves and budding art practices.
Jeremy Bailey is a video and performance artist whose work is often confidently self-deprecating in offering hilarious parodies of new media vocabularies (Marisa Olson, Rhizome). His work has been featured in numerous exhibitions and festivals internationally. He received his MFA in Art Media Studies from Syracuse University in 2006. Bailey's practice is firmly rooted in digital exploration and dissemination.
Erica Stocking received her BFA in 2004 from Emily Carr Institute and lives in Vancouver. Her exhibition at the Lobby Gallery, within a Vancouver hotel, created a functioning, half-sized hotel room behind the existing gallery wall. Her work has been included in local exhibitions at the Helen Pitt Gallery and the Butchershop Gallery. She is a founding member of Norma, a Vancouver based collective whose work often deals with group identity and draws from visual and performance art histories, pop culture, and social behaviour. Norma's performance and installation works have been exhibited locally at Artspeak, LIVE Biennial of Performance Art, grunt gallery, and Access Gallery.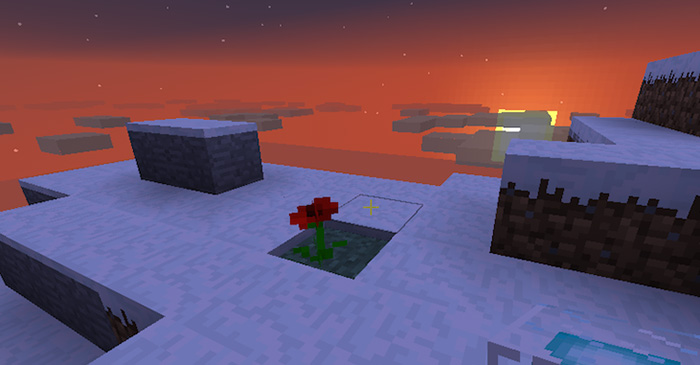 Allison Hrabluik is from Calgary, Alberta and lives in Vancouver. She completed post-graduate studies at the HISK in Gent, Belgium in 2007, and received her BFA from ACAD in Calgary in 2000. Allison's work has been shown in solo and group exhibitions and film festivals across Canada and internationally including Tatjana Pieters Gallery Gent, Belgium; The Or Gallery, Vancouver; Presentation House Gallery, Vancouver; G Gallery, Toronto; and The Western Bridge, Seattle.
Project Director – Demian Petryshyn is a Vancouver based artist whose practice has been focused on the intersection of videogames and art. He received his BFA from the Emily Carr Institute of Art and design in 2000, and an MFA from the University of Western Ontario 2005. As an instructor at the University of Western Ontario he taught courses in new media and visual art foundations.
Locations
One of the first structures built in the gruntCraft virtual studio was a model of grunt gallery, including the media lab and office. This model was built by a youth intern and was later 3D printed as the first test.
Another structure built by a youth intern was the gruntCraft town hall.
As part of the programming in the virtual studio structures were built to help focus the conversation on pertinent conceptual and creative questions. For example one recommendation was to watch the Herzog film, "Cave of Forgotten Dreams" that features one cave explorer who uses his sense of smell to find new caves. Participants were asked to consider how smell might operate in the medium of Minecraft. Other questions posed focused on:
Brancusi's Infinite Column, Repetition, iteration; every material expresses itself in certain forms. What is the material in Minecraft? What can it do? What patterns does the material hold? Manzoni's Base of the World and Op Art / Judy Chicago, Why do complimentary colours seem brighter when placed next to each other?
TNT dispensing drilling platforms built by a youth participant.
A 34 story office tower featuring a functional fire alarm system.
A castle used as a space for studio participants to coordinate their activities.
Location for building animation experiments.
Each location in the virtual studio was connected to the Diamondship network hub via teleportation.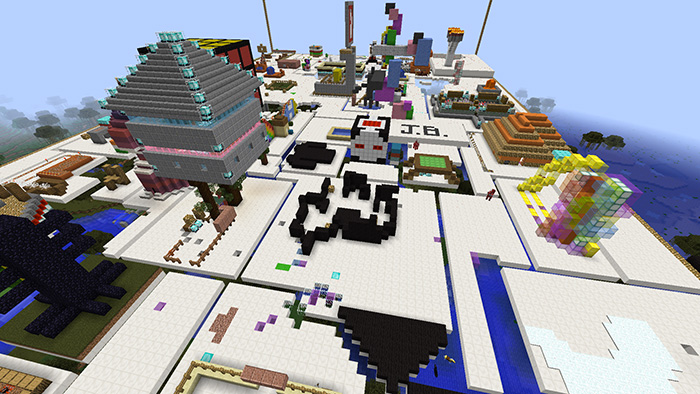 Much of the building done by the youth participants was in the 3D print zone. Constructions that were built in this zone were later 3D printed.
Examples of 3D prints made from the 3D print zone.
Building grunt gallery
3D print of grunt gallery
Built by a youth intern, one of the first undertakings in the project was a model of grunt gallery in the game. This model was then 3D printed as the first printing test.
gruntTower alarm test
The first construction built by a youth participant was the 34 story gruntTower. This tower featured space for other virtual studio members to build apartments and a functional fire alarm system.
Cloning with gruntCraft
Cloning the Diamondship Network Hub
One of the techniques used in building in game was the cloning command function. It was used to build the "Diamondship Network Hub", a teleport hub that connected all the different building sites in the gruntCraft virtual studio.
The Director is in
This video from early in the project is a recoding of the project director going from his office in gruntTower, down to grunt gallery, through the "Cave of Forgotten Dreams Classroom", to a giant hole sculpted by a youth participant.
gruntCraft Promotional Video
This video features some cloning action and was used to promote the project via YouTube's advertising system.
Guest Artist Allison Hrabluik Visits the gruntCraft Studio
As part of the project, a series of guest artists were invited to go into the virtual studio to provide feedback on the work being done by the youth participants.
3D Printing Workshop Area Set-up
Early Stages of the 3D Print Zone
Late Stages of the 3D Print Zone
A special zone was set up for building 3D prints. This space developed over the course of the project until it was filled with 3D prints.